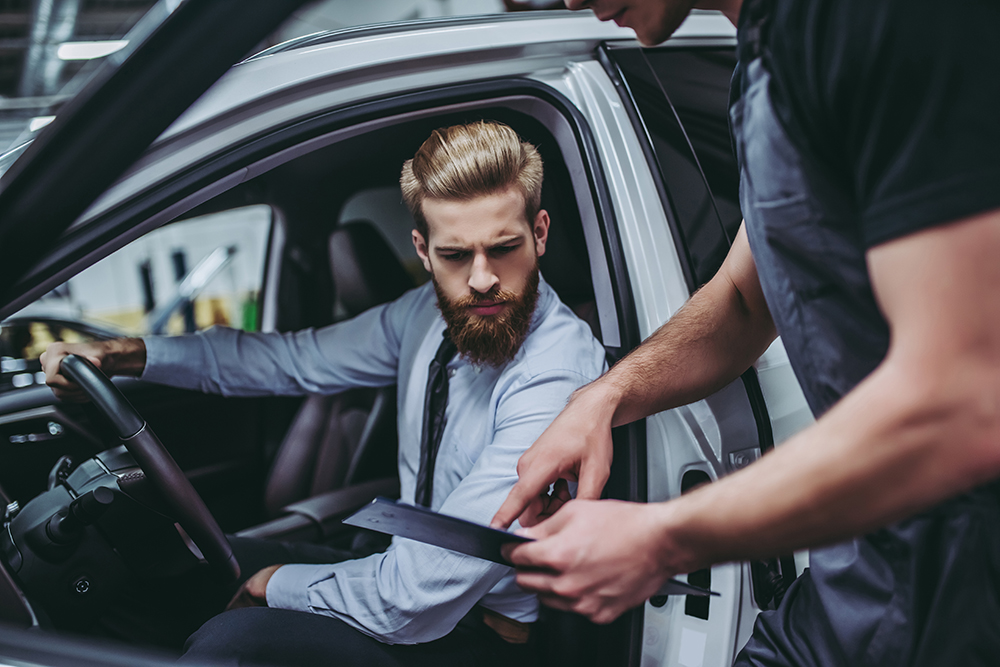 When your dashboard lights-up with warnings or a strange noise comes from under the hood, it's time to head into the mechanic. But if you haven't been to an auto repair shop before or are looking for a new one, how do you find a good mechanic? Choosing a mechanic is a big decision with big implications for your budget, your peace of mind, and your safety. 
It's easy to drive around town, especially in an area like D.C., Northern Virginia, and Maryland, and find a dozen auto repair shops in your neighborhood. How do you choose the right one? How do you know the work will be done well, by someone who knows what they're doing, and at a fair price? Before handing over your precious car keys to just anyone, ask the auto mechanic these questions. 
Have you worked on a car like mine before?
Auto mechanics are, in some ways, like bakers. Each has a specialty, what they're known for, or what they're good at. Are you looking for hearty loaves of bread, playful cupcakes, or fine French pastries? An auto repair shop is similar. Some are great at general car maintenance and repairs. Others specialize in foreign makes and models or high performance vehicles. Still others might be trained in diesel engines. Making sure the mechanic you choose has worked on a car like yours is an important first question to ask.
How has your team been trained or certified?
Try to find out if the auto repair shop hires technically qualified and trained mechanics. Good indicators include memberships and certifications with nationally-recognized automotive associations, like AAA and the National Institute for Automotive Service Excellence (ASE), which ensure that members adhere to strict regulations and customer service standards. 
How long have you been in business?
Did the repair shop open last week or has it been a neighborhood institution for a couple decades? Longevity is one indication of community trust and satisfaction.
Can I speak with any references?
For privacy reasons, an auto repair shop is unlikely to give out the names and contact details of its customers, but that doesn't mean you shouldn't be curious about what other customers have said! Spend some time reading reviews online through sites like Yelp and Google, or by looking the company up with the Better Business Bureau. If you're in the auto repair shop's waiting room and see a fellow customer waiting to pick up their car, it never hurts to ask about their previous experiences with the mechanic.  
Can I get a free estimate?
Quality mechanics should be able to offer you an estimate for services before any work is begun, so you know what to expect and can approve the budget. Having an estimate in writing is helpful, but it's important to note that an estimate is just a reasonable assessment of the likely cost to get your car back to peak performance. Sometimes, when work gets started on bigger under-the-hood problems, the mechanic finds new or unexpected issues. If something else is discovered, you should get a call to approve additional repairs and expenses before work continues.
Will you provide a detailed, written list of repairs?
It's easy to get swept-up in the jargon of auto repairs, but your mechanic should be able to clearly explain what is wrong with the vehicle, what repairs will be made to correct the issue, and why that's the best repair path to take.
Which repairs are absolutely necessary and which are simply recommended?
We always recommend keeping your car in tip-top shape to ensure the longevity of the vehicle and the safety of all passengers, but we also understand that sometimes budgets force us to make decisions about what auto repair can be done on a given day.
Are the parts and services under warranty?
Most auto repair shops will provide a written guarantee on parts and labor – a document that details the rights you have if a new part on your vehicle fails. This is often expressed as a length of time or driving distance, for instance: 2 years or 25,000 miles, whichever comes first. If something breaks within that window, you might be entitled to free replacement parts and repairs.
How long will the repairs take?
The fix to your vehicle might be relatively straightforward, like replacing a headlight bulb, but there are probably a few jobs ahead of you that the mechanic will need to work on first. Other times, if a part needs to be ordered, delivery could take a couple weeks. Find out whether you can stay and wait for the work to be completed, or if you'll need to leave the car for a longer period. 
Finding the best auto mechanic for your vehicle can seem like a daunting task, but at Metro Motor, we make it easy. Our convenient neighborhood locations across D.C., Northern Virginia, and Maryland are trusted for same-day, AAA-approved auto repair by ASE-certified technicians. We go the extra mile so your car can, too. Want us to take a look under your hood? Make an appointment today!
 
Vehicle care information made available by Metro Motor is presented as helpful advice for general maintenance and should not be construed as instructions for at-home vehicle service. Be sure to consult your owner's manual and a licensed, professional mechanic for diagnostics and repair.