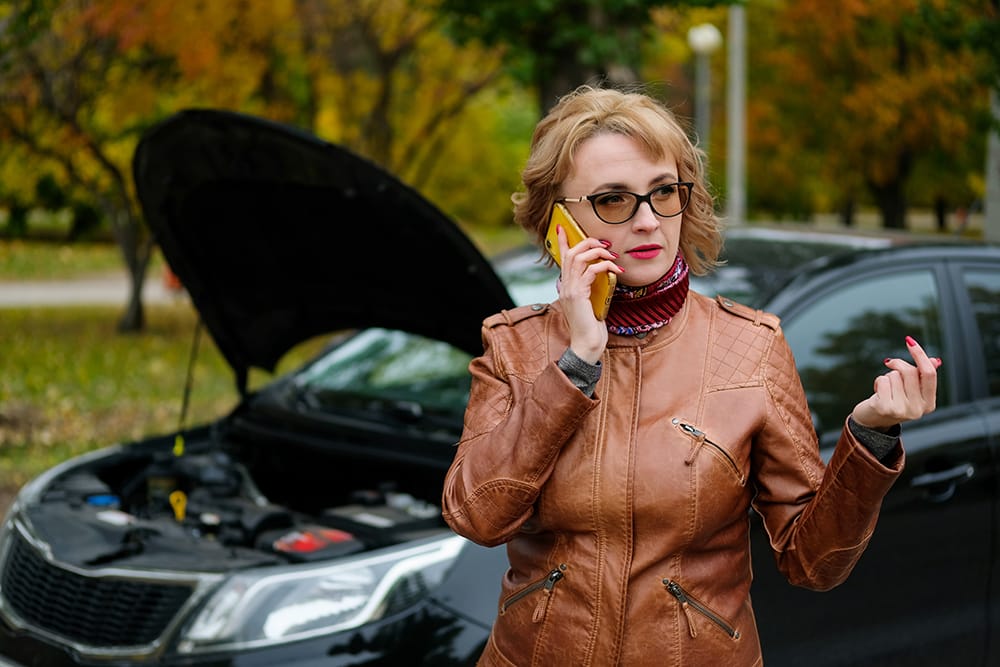 When it comes to travel and commuting, unforeseen events can quickly turn a smooth journey into a stressful experience. A sudden flat tire, an engine breakdown, or accidentally locking your keys in the car can leave you stranded on the side of the road, feeling helpless. This is where Metro Motor roadside assistance comes to the rescue, offering a lifeline for drivers in need in the D.C. area.
Metro Motor roadside assistance services provide drivers with immediate support when they encounter a vehicle-related problem during their drive. With just a phone call, one of our trained technicians will be dispatched to your location, equipped with the necessary tools and expertise to help you get back on the road. Whether it's a jumpstart, tire change, fuel delivery, or unlocking your vehicle, roadside assistance services offer a comprehensive range of solutions to address your specific needs.
 
Average wait time for roadside assistance: 30-60 minutes
When you're stranded on the road, the question you're most likely to ask is: How long does it take roadside assistance to arrive? For most needs during average traffic, a Metro Motor roadside assistance technician will be on-site within 30 to 60 minutes.
It's important to remember that a number of factors influence how quickly roadside assistance will arrive. Requests during periods of heavy traffic, like rush hour, may slow down the arrival of our team. Other hazards, like inclement weather and closed roads, would also impact how soon your roadside assistance arrives.
Metro Motor has a fleet of roadside support vehicles that are operating around the DMV every day. The next time you're driving around and have an "uh-oh" moment, Metro Motor is there. Let our trained operators, auto mechanics, and vehicle technicians help you out. There's no need to sit idly on the side of the road, miss an appointment, or be late for work. Call (202) 559-9339 and we'll be there in a jiffy!
 
The value of roadside assistance
Roadside breakdowns can happen at any time and in any location. Finding yourself stranded in an unfamiliar area can be daunting and potentially dangerous. Metro Motor roadside assistance services not only provide mechanical support but also prioritize your safety. Trained professionals are adept at assessing and managing risks, ensuring that you are in a safe environment while they work on your vehicle. This level of security offers peace of mind, especially for solo drivers and those traveling with young children or elderly passengers.
Roadside assistance eliminates the need for drivers to handle stressful situations themselves. Instead of attempting to fix a flat tire or flagging down strangers for help, drivers can rely on the expertise of Metro Motor roadside assistance professionals. This convenience saves precious time and effort, enabling drivers to resume their journey as soon as possible. 
It might also save you money: Driving an unsafe vehicle can add further wear, which would cost more to repair, while also putting you in potentially dangerous driving situations. Roadside assistance becomes particularly valuable during long-distance trips or road vacations. When exploring unfamiliar cities or areas, the risk of breakdowns and limited access to assistance increases. By calling Metro Motor's reliable roadside assistance service, drivers can embark on their journeys with confidence, knowing that help is just around the corner, anywhere in D.C.
If you need roadside assistance or help with a flat tire, tire change, dead battery, jump start, empty fuel, or lock-out, give Metro Motor a call at (202) 559-9339. We'll be right there!
Vehicle care information made available by Metro Motor is presented as helpful advice for general maintenance and should not be construed as instructions for at-home vehicle service. Be sure to consult your owner's manual and a licensed, professional mechanic for diagnostics and repair.