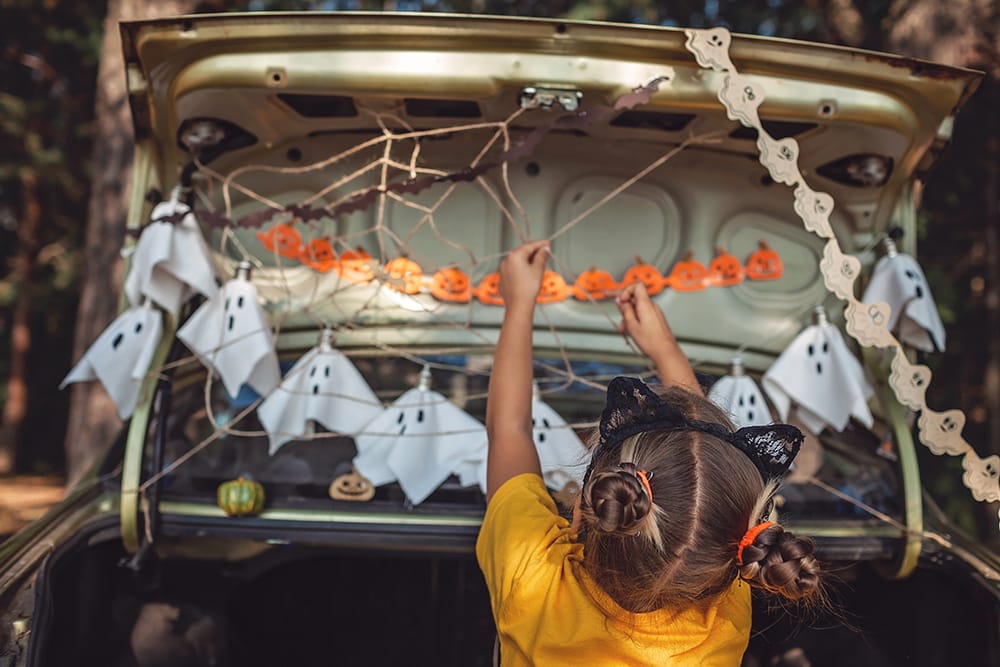 If there's one day of the year when it's okay to have ghastly and ghoulish sounds coming from your car, it must be Halloween! The calendar's spookiest date is just around the corner, so it's time to grab some pumpkins, roll out a costume, and fire-up the smoke machine. Let's trunk-or-treat!
What Is Trunk-or-Treating?
First things first: a definition. While trunk-or-treating has been growing in popularity in recent years, it might still be a new concept for some. Trunk-or-treating is a play on the classic trick-or-treating activity everyone knows and loves, but with a twist. Rather than traipsing around a neighborhood looking for candy, groups of parents and civic organizations are converting parking lots into Halloween destinations.
Participating cars gather at a set time and begin decorating. Most cars are given one or two parking spots to take over and glam up. The trunk is popped open and turned into a mini front porch. Kids, dressed in costume and holding out bags or plastic pumpkins for treats, can then visit from car-to-car to "trick-or-treat" in a contained area among known participants. There are several benefits of trunk-or-treating over traditional trick-or-treating:
Convenience! Cars are grouped in a centralized location, like a school, library, church, or community center, so kids don't have to cross any streets or make a big trek between houses. 
Safety! Participating cars are invited and registered beforehand, so everyone knows who's handing out candy.
Planning! Children are registered in advance too, so adults know how many candy-hungry kids to expect.
Accommodating! Trunk-or-treating creates a fun Halloween experience for those who might not live in a traditional residential neighborhood.
Parents! Rather than waiting at home alone for trick-or-treaters to arrive, parents can socialize with other adults and compete in their own costume contests, too.
Whether you drive a compact sedan or an oversized SUV, you can decorate your ride in grand style to create a fun, safe, and memorable Halloween for all. 
How to Get the Most from Trunk-or-Treating
If you're planning on hosting or attending a trunk-or-treating event this Halloween, pick a theme! You and your family can dress in group costume and decorate your trunk to match. Superheroes? Alice in Wonderland? Things that go bump in the night? You're only limited by your imagination – and maybe your hot glue gun skills. Consider bringing along a fog machine, balloons, or oversized decorations to create a spooky atmosphere in and around your vehicle.
The best trunk-or-treating events have extra activities organized, too. Bobbing for apples, playing Halloween bingo, or competing for best costume are all ways you and your family can get the most from the festivities. It might also be good to bring a few bottles of water and a blanket or a sweater. Autumn temperatures can fluctuate quickly, especially when the sun goes down.
All that's left is to wait until October 31! Just be sure your car is in tip-top shape before heading out to your trunk-or-treat event. If you're relying on your vehicle's battery to power any of your decorations, or if your interior or exterior lights will be on for an extended period of time, then a trip to Metro Motor might be in order to ensure everything under the hood is fully charged and functioning as expected. Any creaky, bumpy, or scraping noises should be from Halloween decorations, not your engine!
Vehicle care information made available by Metro Motor is presented as helpful advice for general maintenance and should not be construed as instructions for at-home vehicle service. Be sure to consult your owner's manual and a licensed, professional mechanic for diagnostics and repair.