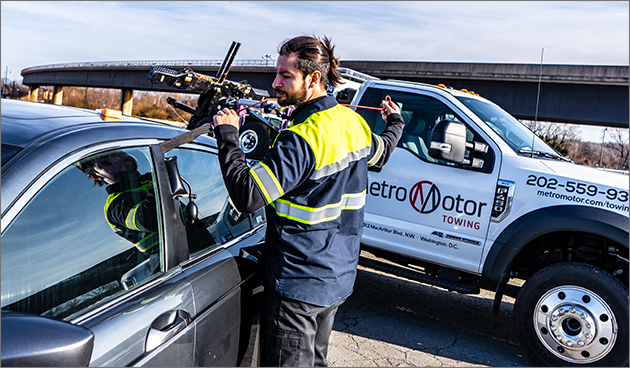 You've got places to be.
That's why a flat tire, a dead battery, or a surprise empty tank can be so frustrating. Luckily, Metro Motor Towing offers a complete range of car roadside assistance services in the DC metro area. If your personal, commercial, or company vehicle stops rolling and you're stranded on the road, our friendly tow truck operators are here for you.
Here are just a few of the car roadside assistance services we provide:
Flat Tire Repair and Tire Changes 
If you've driven around DC lately, chances are you've hit a pothole. That's an everyday hazard on the roads in our nation's capital. But a pothole, rogue nail, or other inconvenience doesn't have to leave you stranded for long. If your commercial or company vehicle is on the side of the road with a flat tire, give Metro Motor a call. Our roadside assistance towing professionals will be there in a hurry to get you back on all four tires quickly.
Fuel Delivery
An empty tank – it happens to the best of us. Sure, you think you have just enough to make it home or to the nearest gas station, but if you gamble with your gas gauge, sometimes the best calculations come up short. No worries! Metro Motor can help. We'll arrive with a full can so your commercial or company vehicle can get back on the road in no time.
Dead Batteries and Jump Starts 
It's one of the most dreaded sounds any car owner can hear: the slow crank-crank-sigh of a dead battery. But don't worry, we're great at jump starting dead batteries. A trained Metro Motor technician will arrive with jumper cables and all the tools necessary to get your commercial or company engine roaring again.
Lock-Outs
Unable to unlock your commercial or company car? We've got you covered. Our automotive locksmith services are designed for drivers who get locked out of their cars - whether at home, on an errand, or on the road. We'll get the doors open and you back on the road quickly, without damage to your commercial or company vehicle or windows.
Metro Motor Car Roadside Assistance is there for you.
The next time you're driving around the DMV and have an "uh-oh" moment, Metro Motor is there. Let our trained tow truck operators, auto mechanics, and vehicle technicians help you out. There's no need to sit idly on the side of the road, miss an appointment, or be late for work. Call (202) 559-9339 and we'll be there in a jiffy!