So you just called Metro Motor towing – now what? While you wait for our tow truck to arrive (we pledge to get there as quickly as possible), it's important to stay safe and alert. Sitting on the side of busy DC-area roads can be daunting, especially with the traffic we see during rush hour, along 66, or on the toll road leading to Dulles.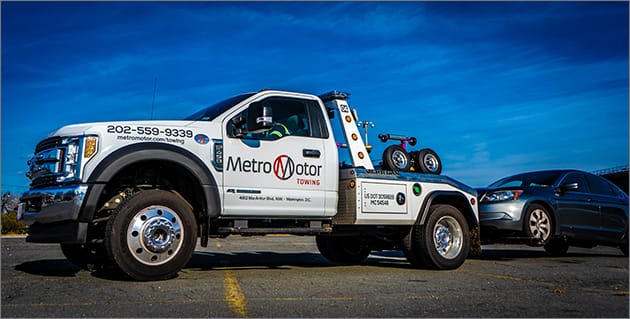 Here are some tips to keep you protected before our towing help arrives:
Stay in your car. Unless there is a clear and present danger inside your vehicle, like a fire or fuel leak, often the safest place to be is within your car. It offers you the greatest protection from the hazards of passing vehicles, which may get dangerously close, drive by very quickly, or kick up rocks and debris. Stay inside your car and wait for help to arrive. Only in the case of a fire or fuel leak, or other immediate internal problem, should you wait outside the vehicle at a safe distance.
Move your vehicle out of the way, if possible. We understand that sometimes cars break down in the worst possible places, like the fast lane of a busy highway. If possible, navigate your vehicle to the shoulder as far off the road as you can. If there is no shoulder, try to find a nearby side street.
Turn on your hazard lights (flashers). These signal to other drivers that something is wrong and to proceed around you with caution.
Stay alert. You may be tempted to spend your time waiting for the tow truck to arrive by talking on the phone, checking your social feeds, or playing a game on your iPad. Don't. Take the time to alert your spouse, immediate family member, or close friend, and then hang up the phone. It's more important to pay attention to your surroundings.
Have an emergency pack handy. It's always good to be prepared. An emergency pack can be a great asset to a vehicle during unexpected circumstances, like when you need a tow. Include items that may be helpful in varying situations, including a flashlight, batteries, flares, jumper cables, Band-Aids, or even a small blanket.
These are just a few helpful tips to consider when sitting on the side of the road with Metro Motor towing on the way. By following these suggestions, you'll minimize the danger to you and other drivers. When we arrive, we'll treat your car, van, or truck as if it were our own and walk you through the next steps to get you back on the road as quickly as possible.