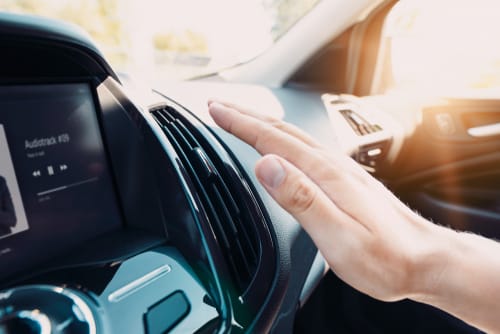 Warm weather is on the way! The last thing you want heading into the hot DMV region summer is a broken air conditioning system in your car. To keep your system working strongly enough to keep you and your family cool and happy throughout the season, it's important to make sure that it is properly maintained. 
What can I do on my own?
In order to reduce the probability of your car's AC breaking down at the worst possible moment and to prolong the life of your system, there are a few important steps you can take in your day-to-day life. 
Firstly, while it may seem tempting to cool your vehicle before you get in, it's best not to turn on the air conditioning before you begin to drive. The system works best while the car is in motion, so pre-cooling can cause unnecessary stress to the system.
Another good practice is to keep your system running at the coldest possible temperature. This reduces the amount of work your system has to undertake, as it does not have to reheat air that has already been cooled. 
Regular Service: Do I need it?
By far the most important and most effective step you can take towards keeping your AC system up to par is investing in service. Our experts at Metro Motors can ensure that your car is constantly filled with a strong stream of cool air to combat the heat outside. Service includes a complete inspection of the system, which will handle any bits that aren't quite right. A regular maintenance visit will involve inspecting or replacing your air filter, which will also go a long way in preserving your car's cool environment.
For more information about your car's air conditioning system, contact us or request an appointment today!
Vehicle care information made available by Metro Motor is presented as helpful advice for general maintenance and should not be construed as instructions for at-home vehicle service. Be sure to consult your owner's manual and a licensed, professional mechanic for diagnostics and repair.