Your Complete Guide to DC Potholes
Learn about DC potholes, how to repair your vehicle if you hit one, what rights to compensation you might have from the DC government, and how to report a pothole location so that others don't hit it, too!
How to Handle a Pothole Incident
Inspect

Repair

Claim

Prevent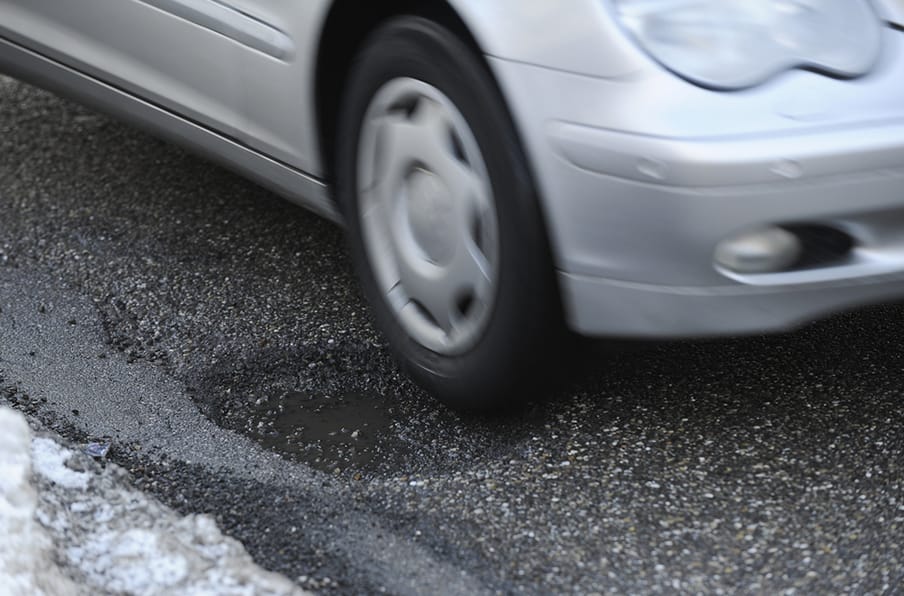 A bit about potholes
If you've been noticing more and more potholes on DC roads – you're not alone. In fact, more than half of our roadways (which, between roads, alleys, and bridges, would stretch roughly a thousand miles if lined up end-to-end) are rated as being in 'poor' or 'fair' condition. It's not just our locally-maintained roads, either. More than a third of DC roads funded by the federal government are in poor shape, too.
Why this holey mess? Heavy rains, freeze-thaw cycles, aggressive plowing, and even tree roots can cause cracks and fissures in the roads that grow into potholes. "My biggest priority is just filling potholes, getting those hazards removed as quickly as possible," District Department of Transportation Director Jeff Marootian told the DC Council. Potholes aren't just a nuisance. They're a risk to both vehicle and driver/passenger safety.
What to do if you hit a pothole
If you hit a pothole on one of DC's roads, follow these steps to keep you and your vehicle safe:
Find a calm, out-of-the-way spot to pull your vehicle over.
Check that it's safe to exit your car and that you're away from any oncoming traffic.
Look at the wheel(s) and tire(s) that hit the pothole. Do you notice any obvious signs of damage, like a flat tire or a dented rim?
If the wheel and tire look to be in good shape, and you don't notice any weird sounds or motions, then you should be fine to continue your journey.
If you notice damage, it's best to take the vehicle to your nearest Metro Motor for inspection and service (don't worry: we can tow your car or truck, if needed).
Because damage from potholes can vary depending on a variety of factors, such as speed and type of impact, vehicle model, and the severity of the pothole, there is no universal repair solution. If you think you may need pothole damage repaired, Metro Motor will walk you through every step of the process and ensure that you get the personalized service you need to get the job done right. Contact us or schedule an appointment today!
Filing a pothole claim
Drivers who hit a pothole on DC streets may be entitled to compensation from the city that covers the cost of repairs – costs that are frustrating because the damage occurred mostly due to the state of the roads and not your driving. Depending on the extent of the damage, drivers have received reimbursements ranging from $35 to over $6,000 from the DC government. You can file a claim directly, or your insurance provider might file a claim on your behalf.
It's important to note that most claims take months to resolve, so you'll likely be responsible for the upfront cost of repairs. The driver must prove negligence on behalf of the DC government for servicing a specific road or pothole; for instance, if the pothole was reported by another driver weeks before and it still hadn't been repaired when you hit the same one.
DC is also unique in that we have roads maintained by several governments and agencies, including roads shared with our neighbors, Maryland and Virginia. Claims must be filed to the correct agency:
Getting a DC pothole fixed
The adage is true for potholes, too: if you see something, say something. Crews fill potholes based on reports from the District Department of Transportation (DDOT) and from drivers' tips. If you notice a pothole on a DC road or in your neighborhood, reach out to the citywide call center by dialing 311 or by completing a service request online using the DC government's Service Request Center. They'll ask you for specific information about the pothole, including the exact location (address or intersection) and the severity of the pothole, e.g. how deep or wide it is.
DDOT strives to fill potholes within three business days of when they are reported, but weather, holidays, and other factors can delay repairs. You can always call back for updates by referencing the service request number given to you when you reported the pothole. The District fills around 7,000 potholes annually, so be patient! Each spring, DC kicks off Potholepalooza to aggressively tackle the number of potholes created during winter "pothole season."