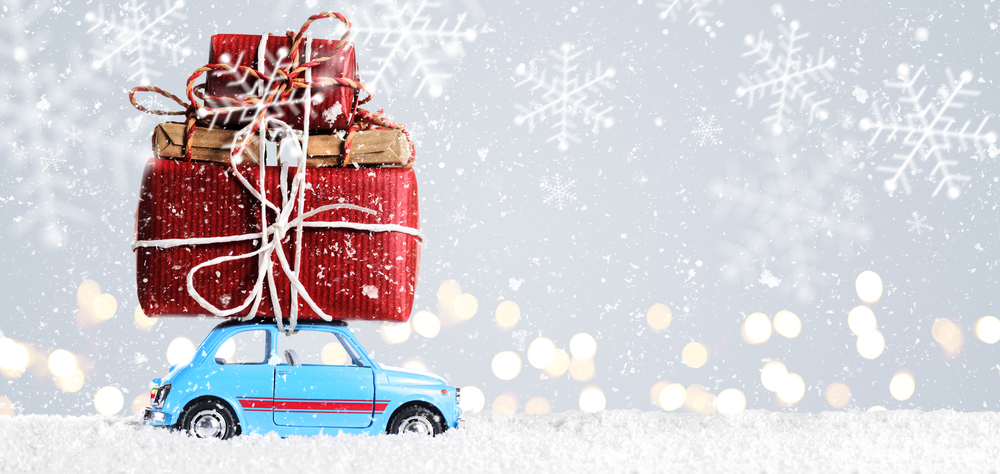 Going home for the holidays can be heartwarming, but maybe also stressful. Having to drive a long way to get there is another thing to worry about. When should you leave to beat traffic? Should you stop at the gas station first or fuel up on the road? Did you remember to pack everything? Well, we don't know what you need in your suitcase, but we do know a few things you should keep in your car in case of a road trip emergency. Here ur guide to stressing less about car travel for the holidays:
Holiday Car Trip Prep Guide
Pre-Trip Inspection
The first thing you want to do is make sure your vehicle is up for a long drive. This includes things like checking the fluids and safety features. Depending on where you're going, it would also be a good idea to check your wheel alignment and tread depth on your tires.
An easy way to check the tread depth at home is with a penny; place the penny with Lincoln's head down inside your tread grooves and make a plan to replace your tires if you can see the top of his head.
Restock Emergency Kit
If you've done your pre-trip inspections, you shouldn't need to worry about a breakdown. Although, you don't want to be in a sticky situation if you do happen to break down, especially if where you're going has inclement weather. As a part of your packing list, we recommend stocking up your car emergency kit with items like blankets, snacks, and an extra phone charger. More on this at the bottom of this post!
Navigation System Set Up
If you have a built-in navigation system and haven't yet already, take some time before your trip to learn how to operate it. Being able to quickly find what you need in the system will help cut down on-the-road stress. If you don't have a built in system, you might want to consider getting a phone jack that will help keep your smartphone at or near eye level.
By getting a device to either stick it to your windshield or attach it to an air vent, you avoid having to look down and away from the road while driving. This is advised for roads you know well, and unfamiliar roads just make this situation even more dangerous.
Plan Your Trip
As a final word, we'd like to recommend anyone going on long distance trips plan accordingly for long stretches in the car. The general rule of thumb is to take a 15 minute break for every 2 hours of driving. This break is time to get out, stretch your legs, and refresh your focus for the next chunk of time spent driving. Going much longer is a tax on your mental load and - like making sure your car's safety systems are in top condition - staying alert and aware of your surroundings is an important step to driving safely.
Holiday Car Trip Packing List
Based on what we've written above, we recommend making room in your trunk for the following:
Jumper cables
Tire sealant
Tire iron
Car jack
Tire pressure gauge
Non-perishable snacks
Water
Phone jack
Phone charger
A flashlight
Duct tape
First aid kit/basic medical supplies
Jumper cables (and a portable jump starter is a plus
Batteries
A blanket
A tool kit
A car escape tool
Hand sanitizer or towelettes
We know you dread having to remember to pack even more in your car. However, you'll be glad you did if you do end up having car trouble on holiday roads. If you haven't had your vehicle checked in while and want to make sure it's up for the journey, make an appointment to take it into your local Metro Motor auto service station.
Vehicle care information made available by Metro Motor is presented as helpful advice for general maintenance and should not be construed as instructions for at-home vehicle service. Be sure to consult your owner's manual and a licensed, professional mechanic for diagnostics and repair.